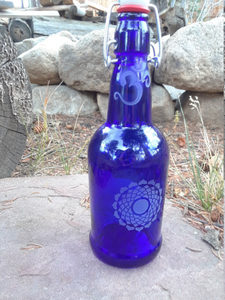 A 16 oz blue glass featuring the Om sign and the symbol corresponding to the Crown Chakra (Sahasrara) This beautiful water bottle is charged with Reiki energy to bless your beverage before consumption!

Sahasrara, or the Crown Chakra, is symbolized by a 1000 petal lotus. It is said to be our direct line to divinity and the portal through which energy enters into the body and the six lower Chakras. It is associated with renewal and transcendence and the ability to tap into higher states of consciousness beyond ourselves.

The sound "Om" is said to be the vibration from which the entirety of the kosmos emanates. It embodies all of existence in both its creative and destructive capacities and is said to attune us to our true nature.

This water bottle is handmade to order - please allow up to 5 to 10 days of processing time prior to shipment (most orders are shipped within 5 days.) If you have questions about expedited processing time feel free to message me and we can make any necessary arrangements!

Please inspect all items upon arrival and contact me immediately if your item is broken on arrival. Please include a photo of the damage and I will send a replacement.
As part of our commitment to sustainability, we plant a tree for every product sold! Check out our FAQ for more details.