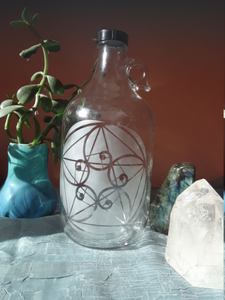 A 1/2 gallon glass growler with a Golden Ratio Spiral Mandala etched onto the side. Great for use as a water bottle or to give your home brewed kombucha or beer a special touch! Charged with Reiki Energy to bless your beverage before consumption!
Put simply, the Golden Ratio is a mathematical relationship in which small is to large as large is to the whole. This ratio has been described and revered by nearly every culture on our planet. It pops up time and again in art, music composition, and even the proportions of our own bodies! This special arrangement can be witnessed in many of the designs of mother nature - from flowers to trees to shells to weather phenomena to the shape of galaxies - it even shows up in aspects of atomic physics and in the arrangement of our own DNA molecules!
This growler is handmade to order - please allow up to 5 to 10 days of processing time prior to shipment (most orders are shipped within 5 days.) If you have questions about expedited processing time feel free to message me and we can make any necessary arrangements!

Please inspect all items upon arrival and contact me immediately if your item is broken on arrival. Please include a photo of the damage and I will send a replacement.
As part of our commitment to sustainability, we plant a tree for every product sold! Check out our FAQ for more details.