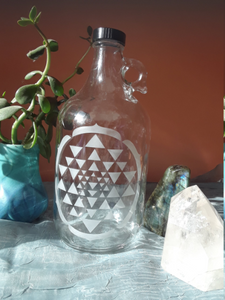 A 1/2 gallon glass growler with the Sri Yantra etched onto the side. Great for daily use as a water bottle or to give your home brewed kombucha or beer a special touch! Charged with Reiki Energy to bless your beverage before consumption!
The Sri Yantra is a 12,000 year old symbol known as the mother of all yantras because all other yantras derive from it. As the three dimensional representation of the sound 'om' it is a representation of the kosmos and all of existence in its entirety.
The Sri Yantra's design is based upon the golden ratio. The downward-pointing triangles represent the feminine creative power, the womb of creation, while the upward-pointing triangles represent the masculine energy associated with movement and transformation. Some say the symbol itself is conscious and can be of assistance in manifesting one's will in the world!
This growler is handmade to order - please allow up to 5 to 10 days of processing time prior to shipment (most orders are shipped within 5 days.) If you have questions about expedited processing time feel free to message me and we can make any necessary arrangements!

Please inspect all items upon arrival and contact me immediately if your item is broken on arrival. Please include a photo of the damage and I will send a replacement.
As part of our commitment to sustainability, we plant a tree for every product sold! Check out our FAQ for more details.